Description
Building Resilience to Thrive - Business Foundations


Presented by: BC Chamber of Commerce & Gustavson School of Business

REGISTER HERE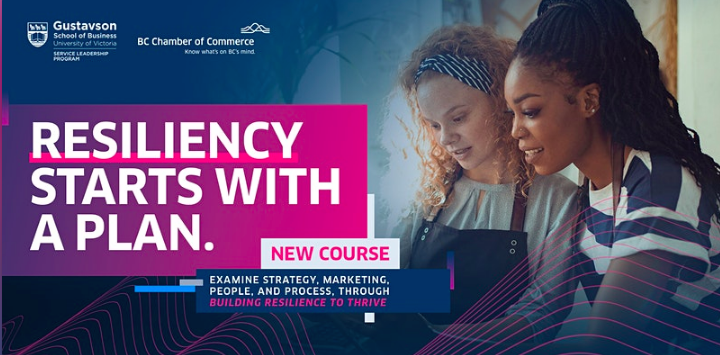 What the presentation will cover:
Developed in partnership with the University of Victoria, Gustavson School of Business, the new Building Resilience to Thrive - Business Foundations online course will take you through how to build a resilient business using case studies, contemporary research, and practical experience. This 6-week course will examine the fundamental building blocks of great business: strategy, marketing, people, and processes, presenting new material you won't want to miss! Better position yourself, your team, and your business for the future by building back stronger with strategy.
This new course in Building Resilience to Thrive introduces new concepts to help your business with recovery, resiliency, and growth. It will be relevant to individuals/businesses that took the first course in the program as well as those that have not participated in the program yet.
What attendees will take away/learn:
Week 1 - Good Strategy
A successful strategy has an essential logic structure which contains three elements. We explore what these elements are and how to execute them in your organization.
Week 2 - Strategy Cases
Explore successful strategy by looking at what big firms do well when implementing strategy and analyze the pitfalls to avoid in bad strategy implementation.
Week 3 - Contemporary Marketing
Discuss the role that marketing plays in an increasingly digital world and how this may impact your organization moving forward.
Week 4 - Building Brands
Delve into the foundations of building a strong brand using a case study that explores the four dimensions and how to excel in each one.
Week 5 - Creating Values with Customers
Create customer value through creativity and innovation. Discuss where great ideas come from and how to turn them into great products and services.
Week 6 - Executing Marketing
Look at how to bring products and services to market and how we continually execute on the key elements of marketing.